When deciding which NYC apartment to choose, there are many factors to consider: How close is the subway? What are your neighbors like? What is the rent? And most importantly, what is the character of the neighborhood. We gave you an awesome guide to the East Village, but there are more neighborhoods to get to know! If you're thinking of renting a NoFee apartment in Greenwich Village, this guide is for you.
A bit of history to give you your bearings: Greenwich Village is generally known as an important landmark on the map of American bohemian culture. The neighborhood is known for its color and alternative culture. Due in part to the progressive attitudes of many of its residents, the Village has traditionally been a focal point of new movements and ideas.
Insiders tip: When wearing heels in Greenwich Village, be mindful of where you step, as most of the side streets are still cobblestone. If you don't watch your step, you, along with your belongings (RIP phone screen) will go falling!
Now that you're acquainted with the neighborhood, we're going to take you to some of the best spots.
Coffee
Stumptown: New York is filled with coffee shops and there is literally a Starbucks on every corner. Stumptown is as great as NYC coffee gets. Be sure to try a Large Nitro Cold Brew.
Located at 30 W 8th Street
Breakfast
Buvette: Eggs and bacon are a dime a dozen in NYC, Buvette offers a delicious French twist on our classic. Nestled away in Greenwich Village, this breakfast spot is sooooo worth it. My favorite menu item is the steamed eggs.
Located at 42 Grove Street
Lunch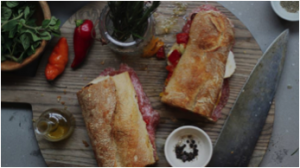 Alidoro: This tiny Italian sandwich shop creates a variety of delicious sandwiches and is a favorite of many locals. Don't forget to bring some dollars! This place is cash only.
Located at 105 Sullivan Street
Study/Work Break
Garden at the Church of Saint Luke in the Fields: Behind the walls of this West Village garden you can find some much needed quiet. Hang with friends or your favorite book and enjoy the formal, well-tended design and brick pathways.
Located at 487 Hudson Street
Happy Hour
The Mermaid Oyster Bar: The cool sister of one of my favorite places The Mermaid Inn as this oyster bar's happy hour packs a serious punch. With $1 oysters, the Mermaid Oyster Bar also extends their happy hour specials throughout the entire restaurant (not just at the bar). Oh, and on Monday's, happy hour specials last all night.
Located at 79 MacDougal Street
Dinner
Corner Bistro: Hands down my favorite restaurant in New York City. No, you do not get swanky ambiance and, no, the menu is not extensive. It is, however, the last bohemian bar in New York. With amazing burgers, great beers and unbeatable prices, Corner Bistro is the perfect place for a date, a night out with friends, or just go by yourself with a book. (My dad used to do this!) Note: this place is cash only.
Located at 331 West 4th Street
Night Out
Fat Cat: You'll find rows of ping pong, pool and shuffleboard tables, and even scrabble!? Say no more, Fat Cat, I am so there. In addition, there is surprisingly good live jazz music. This place is a great time for anyone that is 21+.
Located at 75 Christopher Street
Looking for an apartment in the West Village? We've got you covered. From multi-bedroom shares, to furnished apartments, No Fee Rentals has it all. To check out some of our awesome apartments in the West Village, click here: http://www.nofeerentals.com/apartments.aspx