So you're moving, or have just moved to Manhattan. Congratulations! You've officially started what may arguably be the best years of your life. Choosing the right apartment is the first step to having a KILLER NYC experience. While you'll probably end up choosing the most cost-effective apartment (aka you won't have to have 7 jobs just to afford rent), it is super important to consider your neighborhood. We're creating a neighborhood-by-neighborhood guide straight from insiders for you to have the BEST Manhattan experience, in any neighborhood.
Our first stop takes us to the East Village. Also known as Alphabet City, this neighborhood's notorious reputation of counterculture has helped it grow into a beautiful artistic, multicultural place to live. Historically the East Village was known for cheap housing, and in the 70's living there served as a sort of rite of passage for people of a certain age.
And so now that you're caught up with the history of your new neighborhood, let's get to the good stuff.
COFFEE
Ninth Street Espresso
Located at 700 E 9th St, this is the perfect neighborhood spot that never disappoints. But remember to bring some dollars as it is cash only.
BREAKFAST
Café Orlin
Known for their awesome breakfasts, Café Orlin is a great neighborhood spot for your breakfast. Located at 41 Saint Marks Place, be sure to try the pumpkin pancakes.
LUNCH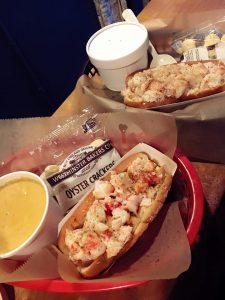 Luke's Lobster
Perfect place for a quick lunch, Luke's Lobster buys traceable, sustainable seafood from fisheries along the gulf of Maine, bringing the best quality seafood to the East Village. Located at 93 E. 7th Street
STUDY/WORK BREAK
6 BC Botanical Garden
Looking for a place to get a little fresh(er) air? 6BC Botanical Garden is a great place to take a breather in between classes or on your lunch break at work. Located at 622 6th Street.
HAPPY HOUR
Drop Off Service
$3 20 oz pints until 8pm; offering craft beer, cask ales, house cocktails and fine wines since 2005. Located at 211 Avenue A.
DINNER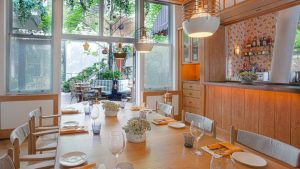 Narcissa
The intimate neighborhood restaurant offers an awesome farm-to-table dinner experience that you and your friends can enjoy. Located at 25 Cooper Square.
NIGHT OUT
Alphabet Lounge
The perfect place to meet up with friends and get your dance on, Alphabet Lounge aka ABC Lounge is the most fun you can have on a Saturday night! Playing all your favorite hits from the 80's, 90's and today, this bar is located at 104 Ave C.
Looking for an apartment in the East Village? We've got you covered. From multi-bedroom shares, to furnished apartments, No Fee Rentals has it all. To check out some of our awesome apartments in the East Village, click here: http://www.nofeerentals.com/apartments.aspx
Hope to see you around the city! 
Cheers!
Steph