Although the past few days have been filled with wacky weather, the warm winds of spring and summer will be breezing through the streets and avenue's of New York City soon enough! And when you're overwhelmed with that smell of summer in NYC (haven't experienced it yet? You're in for a treat), you'll be jumping at the chance to get above it all. If you're not lucky enough to have your very own rooftop to sip margs on, (click here if you want one) you'll thank me later for this list of the best places to get outside in NYC in the warmer months.
BARS:
Bookmarks Rooftop Lounge at the Library Hotel
This cute little lounge has one of the best rooftop bars in NYC, with stunning views this place is great for a date night, or just a night out with pals! Located at 299 Madison Avenue.
The Delancey
Good drinks, great vibes, great music. The Delancey Rooftop is a great bar to go when you just want to party like you're on a tropical island! (Mosquito's not included) Located at 168 Delancey Street.
Gallow Green (personal fav)
My personal favorite rooftop bar in New York City, Gallow Green is super cute, and you'll catch that nice breeze off the Hudson River too! Located at 542 W. 27th Street
Le Piscine at the Hotel Americano
Totally unpretentious, this rooftop bar is the perfect summer hang spot for you and your squad. Re-opens for the season June 1st, so mark your calendars! 518 W. 27th Street
POOLS:
McCarren Pool
Located in Williamsburg, the McCarren Pool is a great place to cool off and get some exercise outside without breaking a massive sweat this summer! Located at 776 Lorimer Street
Barretto Point Floating Pool
I seriously did not know about this pool until I was researching this blog but it is safe to say I will spend 90% of my free time this summer there! Located on Tiffany Street in the Bronx
Lasker Pool in Central Park
Find some much needed relief to the heat of New York City this summer at Lasker Pool, just be sure to arrive a little early to avoid lines, and bring your own lock as they won't let you in without one. Located at 830 5th Avenue
EVENTS:
Sakura Matsuri: Cherry Blossom Festival
This two day celebration of all things Japanese will make you completely forget you're in New York City. Located at Brooklyn Botanical Gardens, April 30th-May 1st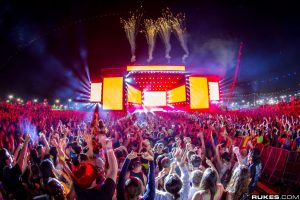 Electric Daisy Carnival
You HAVE to check out EDC. It's at Citi Field this summer and is going to be an amazing time! Great music, great costumes and you'll get to see Citi Field in a way you never thought possible. So get your rave gear ready, it's coming May 14-15th
Coney Island Mermaid Parade
Every year, residents of the five boroughs get together and celebrate the beginning of the summer season in New York City. Put on some glitter, body paint, and seashells in your hair and get festive! It's happening on June 18th.
Governors Ball
The biggest event to hit New York City in quite some time, Governors Ball is also one of the biggest music festivals in the country. With headliners this year like Kanye West, The Killers, Beck and The Strokes, this is a party you will not want to miss! Check it out this year on Randall's Island from June 3rd-June 5th.
So get your party pants (or shorts) on people, because summer in New York City is the best! Make this gorgeous city your permanent residency with No Fee Apartments! We have the best apartments in New York City in all the best neighborhoods! To find your next home, click here.
Until next time!
XO, Steph